Coal City University (CCU)  is a Private University, and is located in Enugu State. It is a non profit private university established in 2016. The Institution hereby invites candidates eligible for Various programs under the Faculties of Natural & Applied Sciences, Arts, Social & Management Sciences, and Education. The article shows the list of courses offered in CCU.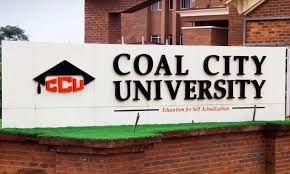 LIST OF COURSES OFFERED IN CCU
ACCOUNTING
BIOCHEMISTRY
BIOLOGY
BUSINESS ADMINISTRATION
BUSINESS EDUCATION
CHEMISTRY
COMPUTER SCIENCE
CRIMINOLOGY AND SECURITY STUDIES
EARLY CHILDHOOD EDUCATION
ECONOMICS
EDUCATION AND BIOLOGY
EDUCATIO AND CHEMISTRY
EDUCATION AND COMPUTER SCIENCE
EDUCATIO AND ECONOMICS
EDUCATI AND ENGLISH LANGUAGE
EDUCATION AND HISTORY:
EDUCATIO AND INTEGRATED SCIENCE:
EDUCATION AND MATHEMATICS
EDUCATION AND PHYSICS
EDUCATI AND POLITICAL SCIENCE
EDUCATIONAL AND RELIGIOUS STUDIES
EDUCATIONA SOCIAL STUDIES
EDUCATIONAL MANAGEMENT
ENGLISH AND LITERARY STUDIES
GUIDANCE AND COUNSELLING
HISTORY AND DIPLOMATIC STUDIES
INTERNATIONAL RELATIONS
MARKETING
MASS COMMUNICATION
MATHEMATICS
MICROBIOLOGY
PHYSICS
POLITICAL SCIENCE
PRIMARY EDUCATION STUDIES
PSYCHOLOGY
PUBLIC ADMINISTRATION
RELIGIOUS STUDIES
SOCIOLOGY
STATISTICS
TAXATION
TEACHER EDUCATION SCIENCE
Admission Requirements
All candidates must meet the admission requirements to be eligible for any of the courses. Candidates must have a minimum of five O'Level credits in relevant subjects including English and Mathematics.
ALSO CHECK
Federal Universities in Nigeria
Private Universities in Nigeria