This is to inform aspirants of the Federal University Gashua that the cut off mark for candidates has been announced. Aspirants seeking admission into FUGushua are to advised to check the current UTME Cut off marks for FUGushua. This article shows the Cut Off Mark for Federal University Gashua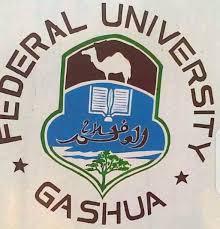 CUT OFF MARK FOR FEDERAL UNIVERSITY GASHUA (FUGASHUA)
1. Sociology 120
2. Biochemistry 120
3. Biology 120
4. English Language 120
5. Home Economics And MGT/ Economics 120
6. Forestry And Wildlife Management 120
7. Business Administration 120
8. Political Science 120
9. Information And Communication Science 120
10. Psychology 120
11. Computer Science 120
12. Geography 120
13. Physics 120
14. Chemistry 120
15. History And International Studies 120
16. Home Science And Management 120
17. Arabic Studies 120
18. Agriculture 120
19. Economics And development Studies 120
20. Mathematics 120
21. Microbiology 120
22. Fisheries And Aquaculture 120
23. Accounting 120
24. Public Administration 120
25. Islamic Studies
FUGASHUA ADMISSION REQUIREMENTS
Candidates seeking admission to FUGashua through the JAMB (UTME) must meet the following requirements listed below:
1. Aspirants must have at least a Credit pass in core subjects in Senior Secondary Certificate Examinations (SSCE/GCE) in not more than two sittings.
2. JAMB subject combination for your course.
3. Candidates must score of at least 120 on the recently concluded JAMB UTME exam.
4. FUGASHUA must be your preferred or first choice of University.
5. Candidate must participate in the FUGASHUA POST UTME/SCREENING
6. Aspirant must be at least 16 years old
Related Articles:
JAMB Subject Combination
Courses Offered in FUGashua
Cut Off Mark for BUK
Cut Off Mark for ABU