This is to inform aspirants of the Federal University of Technology Minna (FUTMINNA) that the cut off mark for candidates has been announced. Aspirants seeking admission into the tertiary institution are to advised to check the current FUTMINNA Cut off mark for all courses in this article.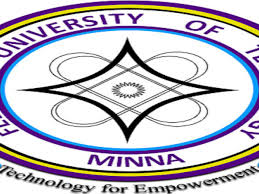 Federal University of Technology Minna (FUTMINNA) Cut Off Mark
Agriculture 160
Food Science & Technology 170
Water Resources, Aquaculture & Fisheries Technology 160
Computer Engineering 190
Electrical/Electronic Engineering 180
Mechatronics Engineering 180
Telecommunication Engineering 170
Agric. and Bioresources Engineering 170
Chemical Engineering 180
Civil Engineering 180
Material and Metallurgical Engineering 170
Mechanical Engineering 180
Petroleum and Gas Engineering 180
Architecture 200
Building 160
Estate Management & Valuation 160
Quantity Surveying 170
Surveying & Geoinformatics 160
Urban & Regional Planning 160
Computer Science 190
Cyber Security Science 190
Information Technology 180
Information Science and Media Studies 160
Logistics and Transport Management 160
Project Management Technology 160
Animal Biology 160
Biochemistry 180
Microbiology 180
Plant Biology 160
Applied Geophysics 160
Chemistry 160
Geography 160
Geology 160
Mathematics 160
Physics 160
Statistics 160
Educational Technology 160
Industrial and Technology Education 160
Library and Information Science 160
Science Education 160
FUTMINNA ADMISSION REQUIREMENT
Candidates seeking admission to FUTMINNA through the JAMB (UTME) must meet the following requirements listed below:
1. Aspirants must have at least a Credit pass in core subjects in Senior Secondary Certificate Examinations (SSCE/GCE) in not more than two sittings.
2. JAMB subject combination for your course must be correct
3. Candidates must score of at least 160 on the recently concluded JAMB UTME exam.
4. FUTMINNA must be your preferred or first choice of University.
5. Candidate must participate in the FUTMINNA POST UTME/SCREENING
6. Aspirant must be at least 16 years old
How To Calculate FUTMINNA Aggregate Score
Aspirants that participated in the Federal University of Technology Minna Post UTME / Screening are expected to know how to calculate their aggregate score.
Divide your JAMB score by 8
Divide your post utme score by 2
Add both of them together to get your aggregate score
For instance;
Blessing score 280 in JAMB and 70 in post utme
280/8 = 35
70/2 = 35
i.e Blessing aggregate is 35 + 35 = 70
Recommended Articles:
JAMB Subject Combination
Abubakar Tafawa Balewa University Cut Off Mark
Ahmadu Bello University Cut Off Mark
Bayero University Kano Cut Off Mark
Federal University Oye-Ekiti Cut Off Mark