The Univerisity of Nigeria (UNN) is a Federal University in Enugu State, Nigeria with three campuses; Nsukka Campus, Enugu Campus (UNEC), Ituku-Ozalla (UNTH) located in Enugu State. The Institution was founded by Nnamdi Azikiwe in 1955 and formally opened on 7 October 1960. This article helps candidates to know the UNN Cut Off Mark, requirements and how to calculate the aggregate
UNN Cut Off Mark for 2023/2024 Admission Exercise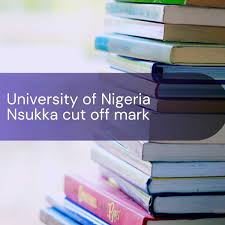 FACULTY OF AGRICULTURE
Agric Economics – 227
Agric Extension – 201
Animal Science – 202
Crop Science – 206
Soil Science – 205
Fst – 227
Home Science – 200
Nutrition and Dietetics – 247
FACULTY OF ARTS
Archaeology & Tourism – 200
English and Literary Studies – 271.22
Fine and Applied Arts – 260
Foreign Languages – 200
History and International Studies – 260.66
Linguistics and Nigerian Languages – 225
Mass Communication –256
Music – 256.33
Theatre and Film Studies – 250
Combined Arts – 201
FACULTY OF LAW
Law – 296.5 (
FACULTY OF MEDICAL SCIENCES
Medicine – 322.33
FACULTY OF PHARMACEUTICAL SCIENCES
Pharmacy – 303
FACULTY OF BUSINESS ADMINISTRATION
Accountancy – 256
Banking & Finance – 248
Marketing – 232
Business Management – 233
FACULTY OF DENTISTRY
Dentistry – 270
FACULTY OF ENGINEERING
Agric & Bioresources Engineering – 204
Civil Engineering – 258
Electrical Engineering – 258
Electronics – 232
Mechanical Engineering – 260
FACULTY OF BIOLOGICAL SCIENCES
Biochemistry – 248
Botany – 198
Combined Biological Sciences – 210
Microbiology – 235
Zoology – 207
FACULTY OF EDUCATION
Adult Edu – 200
Educational Art – 251
Education Chemistry – 203
Education Social Sciences – 245
Agric Education – 205
Business Education – 220
Guidance & Counselling – 263
Health Education – 206
Home Economics Education – 229
Industrial Technical Education – 236
Library and Information Science – 225
Science Education – 200
FACULTY OF ENVIRONMENTAL STUDIES
Architecture – 226
Estate Management – 201.66
Geoinformatics & Survey – 203.22
Urban and Regional Planning – 200
FACULTY OF HEALTH SCIENCE &TECHNOLOGY
Radiography – 282.5
Medical Rehabilitation – 256
Nursing – 291
FACULTY OF PHYSICAL SCIENCES
Computer Science – 236
Geology – 234
Mathematics – 200
Physics And Astronomy – 200
Pure And Industrial Chemistry – 232
Statistics – 201
Computer/Statistics – 200
FACULTY OF VETERINARY MEDICINE
Veterinary Medicine – 245
FACULTY OF SOCIAL SCIENCES
Economics – 260
Geography – 217
Philosophy – 244
Political Science – 250
Psychology – 252
Public Administration – 266
Religion – 232
Social Work – 213
Sociology/Anthropology – 260
UNN Admission Requirements
Candidate must score at least 200 in JAMB UTME examination.
Aspirant must be of age 16 when the admission is offered to them.
Candidates must have at least 5  Credits in their O'level result in core subjects to be offered admission.
Candidate must choose UNN as preferred/ first choice.
POST UTME candidates must meet the departmental cutoff mark for their courses.
HOW TO CALCULATE UNN POST-UTME AGGREGATE
JAMB takes 60% while POST UTME takes 40%.
To calculate the aggregate;
Multiply your JAMB Score by 0.6.
Multiply your POST-UTME Score by 0.4
Add the results of the calculations from above, that gives your UNN POST UTME aggregate
For instance;
John scored 275 in JAMB UTME and 290 in post UTME examination
275*0.6 = 165
290*0.4 = 116
The aggregate for John is 165+116 = 281
Recommended posts: